Ongoing Registration for 2017-2018!

To learn, it should be fun. Whatever the age, child or adult, a comfortable, non-competitive,
non-judgmental atmosphere is vitally important. Our classes give everyone the chance to express themselves, while developing a strong sense of self-esteem. Students participate creatively as a means of self-expression and development in a safe, professional, and enjoyable environment.

YOUTH CLASSES FOR AGES 5-18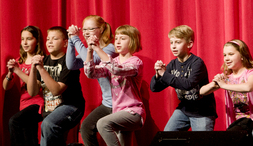 For the shy or the naturally out-going, we have something for everyone! Main classes for youth are part of our 26 week program that runs from Sept. - April. Grouped by ages, each class meets one hour a week. Should they choose, students have additional opportunities for performance related activities that foster confidence in being in front of an audience without the pressure of having to audition. Students learn all aspects of the performing arts, onstage & backstage, performance & life skills. Our goal is to give students, through the magic of theatre, the tools to face new challenges, whatever they may be, with confidence
and poise, and the knowledge that their potential for success is limitless.

---
HATT'S OFF Presentation!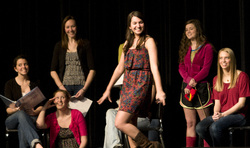 At the end of the year, all take part in our annual HATT'S OFF Presentation, a show written just for them. At the end, all receive a hat representing how many years they have taken class. In 2017 Nick Dauley (who played Jem in Virginia Rep's production of To Kill a Mockingbird) received his 14th year hat, having been with us since he was 4 years old. In 2012 we bestowed two of our students (Katie Patrizio and Nicole Fratkin) with 13th year hats, having watched them grow from timid kindergartners into incredible young women ready to go off to college. We do not have a high turnover rate, so it is wonderful to see how our students change over the years from their early years of childhood into young adults.
The end year show is a fun highlight for all the students.

---