Ongoing Registration!
Next 6 week session begins Feb. 19th or 20th, 2018
We will start the 2017/2018
series of classes on Monday Sept. 11th., 7:30-9:30 pm.
Sessions run all year, every 6 weeks, with the occasional break.
Call or email for exact start dates after the first 6 weeks and to register.
* Due to popular demand, we have added a 6 week session
on Tuesdays beginning September 12th from 7-9 pm.
Cost is $95 for first time students, $85 for returning students.

In our classes we treat you like adults. We know you are busy with life, so our classes are fast paced, inclusive week to week, with a focus on being up and moving onstage. We do not have textbooks or journals required, we do not run our classes like "school". You have already been through school. What you need is a place to learn and explore,
a place to challenge and question,
a place to decompress from the world and create freely.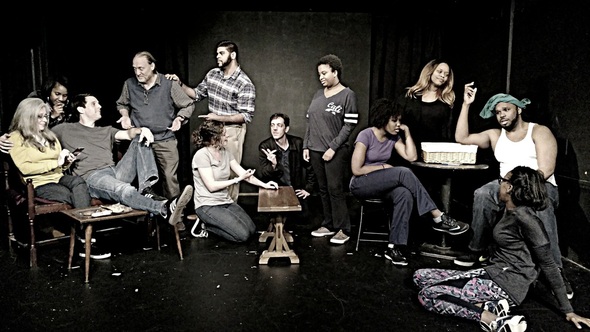 ADULT CLASSES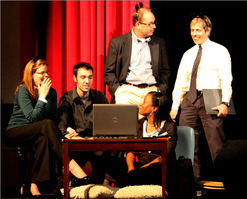 Adult classes run year-round in manageable 6 week blocks beginning in Sept. & continuing through the first part of August. Classes cover all aspects of performance and work-related skills including scripted scenes (drama & comedy), improv., directing, intensive character work, monologues, audition prep, and more. Classes are suitable for both the novice and the more experienced actor wishing to stretch and maintain their acting muscles, as well as for those looking to increase their confidence levels in presentation and public speaking needs in their jobs.

---
"Play well, or play badly, but play truly" - Stanislavsky, actor, teacher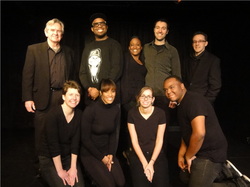 Our students are free to question, explore, take risks, and figure out their own technique.
We do not have a "demand for purity" which can limit the student to one method of preparation, but instead believe a well rounded base helps each actor figure out the process that helps them to best prepare for each role. As such, our classes use various elements mainly from the well known acting techniques of Stanislavsky & Meisner, with additional nods to Stella Adler. Our main focus is on an organic approach which allows for a natural, honest, and true performance.

We believe that preparation is completely individual and what works for one person may not work for another, and that what an actor may need to pull from in creating a character may also change from role to role. The point is to come on stage with something going on; with a full inner life. From there, the emotion will change depending on the circumstances of the scene.
Classes pay equal attention to scripted scene work, creative planned scenes with organic development of character and dialogue, and improv., which affords the opportunity to explore different characters, understand varying means of expression, develop confidence, control, and focus, learn how to interact and move honestly onstage, and have, above all else, fun while doing so. Because if you are not enjoying it, your audience won't either.
To register for any of our classes, please call 343-6364 or email info@hattheatre.org for availability.
Check out our schedule and calendar for more details.
Just a few Past & Current Student Successes:
Ashton Lee: "Rustbelt 1984" , a staged reading with 5th Wall Theatre, directed by Carol Piersol
Alvino Medina: Has worked as a member of ComedySportz
Lindsay Sloan: "Turn" (cable)
Kate McDaniel: L.A Based... Modern Family (guest star), Hot in Cleveland (guest star), The Office (featured)
Linda Shepard: "Legends & Lies" (cable)
Sidney Freeman: "Legends & Lies" (cable)
Ryan Stanley: "Turn" (cable)
Patricia Alli:
Hillary in Hillary & Clinton (HATTheatre)
Anne in "Bill W. and Dr. Bob (HATTheatre)
"Hamlet" (multiple characters) Quill Theatre,
The Nurse in The "Lyons", 5th Wall Theatre
Alma in Henley Street's critically acclaimed "Yellowman"
,
Queen Elinor of Aquitane in Richmond Shakespeare's production of "King John"
Joseph Lewis Nelson: "Oblivion" with TheatreLAB (nominated for Most Promising newcomer by the Richmond Theatre Critics Circle )
"Holiday Mix!", with HATTheatre
Dale Leopold: "Dessa Rose" Firehouse Theatre Project (Carol Piersol)
"The War of the Worlds" (Orson Wells) Firehouse Radio Players
Mike Dunn: Member of West End Comedy Improv. Troupe,
Shows with Richmond Triangle Players, Chamberlayne Actor's Theatre & several films with
the 48 hour film project
Annie Zannetti: "The Fourth Wall" Firehouse Theatre
"Design for Living", Richmond Triangle Players
"The Whale", HATTheatre
"New Century" with Richmond Triangle Players
Chloe Williams: "
Hair" with Firehouse Theatre
"bare: a pop opera" Richmond Triangle Players
"Breast in Show" a Carol Piersol production
"Company of Angels", Julie Fulcher-Davis production at Richmond Triangle Players
"Mame", Barksdale Theatre (now Virginia Rep)
"Why D
o Fools Fall in Love" HATTheatre
Jeannie Philips: "One Act Showcase" HTC
Kyle Rudnick: "All Wrapped Up" HATTheatre
"Onion Snow" Firehouse Theatre
"Taking Liberty" Live Arts Theatre
Orrie Crews: "All Wrapped Up" HATTheatre
A multitude of voice-overs, directing and performing & directing with OTARP
Brian Dismore: Member of West End Comedy Improv. Troupe
Stanley Cary: D.C.- Get Lost In It, video for Washington D.C tourism promotion
Many modeling and print ads
Tim Harris: "Mahalia" Swift Creek Mill Theatre
"Fences" Sycamore Rouge
"Othello" (title character) Kimball Theatre, Williamsburg
Veronica Parks: Lives and works steadily in video, film, print, trade shows and producing
webisodes in Los Angeles
Winstead Barnes: a multitude of independent films
Darnell James: a multitude of independent films, videos, webisodes, commercials and
hosting, based
in Atlanta Georgia
---