Style Weekly's "Best of" issue 2012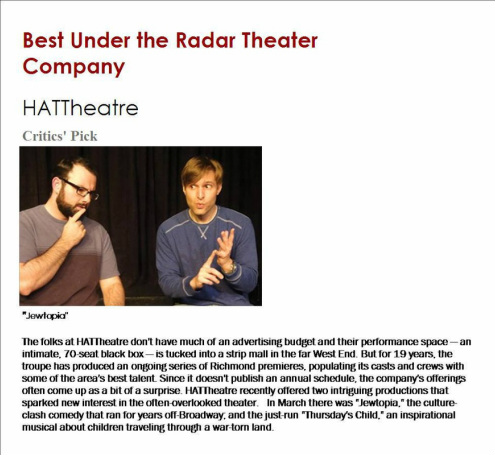 Showbiz Radio: Bruce Levy
Over the Tavern Review 2013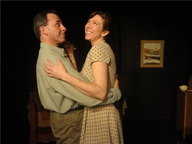 One of the last entries in the Acts of Faith Festival to open, was also my first opportunity to experience the HATTheatre. Celebrating its 20th season, HATTheatre is "off the beaten path" off Patterson Avenue in a storefront.
Over the Tavern is kind of the 1950′s Catholics in Buffalo answer to Neil Simon's Brighton Beach Memoirs (about a Jewish family in NYC in the 1930s). Eric Brenner as the main character of the play, the wise-cracking Rudy, is indeed reminiscent of a young Matthew Broderick (with a touch of Charlie Brown added). The 7th grader has charm, charisma, and impeccable comedic timing; successfully carrying the focus of the show and keeping the audience engaged and entertained. Having taught youth theater for over 30 years (and seen only a handful make it in "the business") this kid is one to watch as his career develops.
The same natural talent that caught my eye in his performance of "The Boy" in Cadence Theater's The Pillowman was again evident in this production. Brenner is always "on." He stays in character, maintains eye contact with the other performers, uses a great variety of facial expression and body movement, and displays natural inflection and projection. These are signs of natural talent that cannot be easily taught.

Just like Broderick's character, Eugene in Brighton Beach, Rudy and his three siblings are experiencing puberty and sexual awareness; however in a Catholic family where these thoughts are sin. Rudy is questioning his faith and Catholic school education, much to the chagrin of his aging Catholic nun teacher, Sister Clarissa, masterfully portrayed by Jody Smith Strickler. Strickler is every Catholic kid's worst nightmare (I've heard the stories) complete with clicker and ruler. She is commanding and harsh which makes her softer, inflective moments even more tender and heart-rending.
All three of Rudy's stage siblings face their own challenges, and are well portrayed by the young actors. Michael Tatum is eldest child Eddie, a perfect mix between Wally Cleaver and Eddie Haskell. He is both Rudy's tormentor and role model. Tatum shows the nuances between the brooding teen filled with anger at his father, and the caring older brother who tries to protect his siblings. Kathleen Baughn is Rudy's bobby soxer sister Annie. She is the typical insecure and emotional teenage girl. Baughn does well at displaying Annie's emotions and frequent tears without being over the top.

The highest praise though goes to another young performer; Nick Dauley as Rudy's "retarded" younger brother, Georgie. As a special education teacher, I can affirm just how authentic Dauley's performance is. In his cast bio, Dauley says "He spent a lot of time researching those with special needs, determined to bring truth and respect to the stage." Well, his professionalism paid off. He is both consistent and endearing in the little mannerisms, tics, body movements and facial patterns of a child with autistic like tendencies. Even in moments when his character is not involved in the plot, Dauley gently rocks, sucks his thumb, slaps his face and other stage business that are true to life for a person such as Georgie.
Fawn LaBenz Matzer and Ken Moretti are Rudy's parents Ellen and Chet. Matzer is the typical 50′s stay at home mom, while Chet is a lower class, forgetful and dimwitted father, and the owner of a Tavern downstairs from the family's apartment. As Rudy says, Chet is no Robert Young. He is brooding and distant, yet clearly loves his family — even his drunk (and never seen father) Pops. While there is great chemistry between the siblings and between the parents and the siblings, things just didn't seem to click in the relationship between the parents. While the script varied between fighting and warmth, that warmth and tenderness just never seemed to come through.
Amidst the laughs are some serious messages about physical, verbal and emotional abuse. As Sister Clarissa says "rulers and broomsticks aren't the only things that cause damage."
Director Vickie L. Scallion effectively utilized the small stage and theater. The way things were set up, it almost felt like the audience was sitting with the family in their living room. Martha Kelley's costumes were overall appropriate for the time, however Ellen did seem to be wearing pants more than housewives did at that time (we old timers remember the fuss over Mary Tyler Moore on "The Dick Van Dyke Show" even in the early 60s).
Two notes as a first time attendee: it would have been a nice touch to play some 50′s music softly over the sound system before the show and at intermission (the audience sat silently listening to each other's whispered conversations) and while the padded seats on the metal chairs were a nice touch, padding on the backs would help in audience comfort as well (I heard several audience members comment on this as they discussed this otherwise "delightful" show on their way out).
The audience is left to ponder Rudy's questioning of his faith. Maybe we're not here to suffer and avoid hell; maybe God put us here to have fun. Either way, I can guarantee you will have fun if you make time to see Over the Tavern. Even with a few swear words, this would be a great show to bring the older children to, as they witness future stars of their generation in the making.


---
Jewtopia GAYRVA Review


Matthew Miller
March 16, 2012
"Oy Gevalt!" Adam (Chris Hester) has brought home the shiksa, again. Time, in other words, for mom, Arlene (Liz Herlich), to get a little more liberal with the Manischevitz tonight.Yet, wait everyone knows Jews aren't heavy drinkers. Like seriously Arlene, you're giving us Jews a bad rap. But you see Bryan Fogel and Sam Wolfson's "Jewtopia," HATTheatre's submission into the Acts of Faith Festival, is all about Jewish stereotypes: Jews move tables at restaurants, Jews don't hunt or go boating on the boats they own, Jewish women play mahjong (well, that one's true, ask my mother), and Jewish men certainly don't like Jewish women. (Is that because they don't buy retail?) It's the last stereotype that sets up the show: Adam is Jewish, but has an aversion to dating Jewish girls. However, his friend Chris O'Connell (Lucas Hall), an Irish Catholic, only wants to marry a Jewish girl so he never has to make another decision in his life. Chris offers to help Adam score Jewish chicks and signs him up for JDate.com,
the
Jewish dating site.
Adam's prospects don't look too good after a few dates with religious Jewish girl, butch (possible lesbian?) Jewish girl, and artsy fartsy, feminist Jewish girl. In the meantime, Chris has fallen for Alison Cohen (a cute Sarah Robins) and plans to convert to Judaism. (Snip snip!) God forbid Adam might marry a Kennedy instead of a Rosenbaum! But Jewish, schmewish—director Vickie L. Scallion has infused Fogel and Wolfson's pretty much bupkis script with laugh-out-loud humor, particularly in Act II during the Passover Seder scene. Yes, there are bothersome stereotypes, particularly those that paint Jewish women in a negative light, and annoying subplots dealing with Chris' inability to say "I Love You, Dad" to his father and Adam's scandal at his Bar Mitzvah, but I sense that Fogel and Wolfson have decided to leave the realm of serious Jewish drama to other playwrights.
And amidst a changing scenery of Jewish holidays from Sukkot to Passover under Todd Schall-Vess' efficient set, a portrait of an austere, gray-bearded Hasidic rebbe glares down on his identity-confused, probably Reform temple affiliated descendents with solemnity and piety, draping the wall unmoved throughout the performance's 2 ½ hours, as they outrageously deal with contentious, topical Jewish issues like religious intermarriage and cultural assimilation. Chris Hester adds an anxious but adorable personality to his role as Adam, and Lucas Hall nicely amps up Chris' enthusiasm for everything Jewish. Michael Dunn stands out humorouly as Rabbi Schlomo, but it's Nicole Fratkin as Adam's sassy sister (Jewish girl with an iPod!) and Natasha Liu as Rachel Khan who have the best one-liners of the show in Act II and they do it hilariously.
But like the play's conclusion, where Jews and Gentiles burst out into song with one another in ecumenical harmony, I was ready to burst out of there. However, one of the lyrics stuck with me, "I'm a Jew and it's OK." Despite all the stereotypes, I very much agree.
---
Theatre Review, WCVE Radio
Monday, March 1, 2010

HATTheatre Presents Awaken The Spirit
Over this past weekend I finally got the chance to catch one of the local theatres whose work was not really known to me.
I had been inside the HATTheatre in order to see a production by the Richmond Triangle Players, and I
had recently seen a production by Random Acts, one of the area's best improv groups – but I had yet to see
one of the productions done by the theatre itself. I was laboring under the delusion that the HATTheatre
was either some sort of community theatre or children's theatre and I am glad to say that it is a wonderful
professional company that has showcased some of the finest talent the city has to offer.
Their current production,
Awaken the Spirit
, is a reimagining of songs composed by Stephen Schwartz,
a guy who has scored a few minor hits. You might have heard of some of them –
Pippin, Godspell, Wicked, Children of Eden
,
not to mention
The Baker's Wife
among others. Songs from each of these shows, plus a tune from
Geppetto
and
a couple from the album
Uncharted Territory
make up this presentation – great songs that have been moved
from their original spot to create a brand new theatrical experience.
These kinds of compilation shows are hit and miss with me. Sometimes I'm too attached to the songs in
their original presentation and don't want to see them turned into a best-of cabaret; but in the case of
Awaken the Spirit
, an actual story has been constructed out of the material, making it seem fresh and new.
The story reolves around three groups of two – relationships in various positions – just starting out, ending, and stalled
somewhere waiting to happen. The cast includes Deborah D. Lynch, Scott Melton, Lucas Hall, Haley Roberts, and
Ryan Lynch – all fairly talented singers and performers. Each has a good moment or two, with Lynch and
Melton lending their talents to the most songs. The real find for me in this production was a
young lady named Sarah Crane – whose work I have never encountered before, but who possesses a wonderful voice.
She is still tentative in her acting, but once she conquers that, I am predicting that she will start getting the roles that
really make people stand up and notice. Her version of
Defying Gravity
and
For Good
are two standouts.
Director Julie Fulcher-Davis may have become the first director to have two shows running simultaneously
during the Acts of Faith Festival. I'm not sure of that, but even if she is not, it is no small feat.
Once again she demonstrates not only a great ear for the rhythm of the music, but a deft touch with getting
her actors to deliver solid performances. Music direction is by Deborah Lynch and the sets and lights
are handled by Todd Shall-Vess. Working in an intimate space can be a tricky affair, but they manage to pull it off nicely.
It may be a well guarded secret that I'm letting out, but I recommend that if you are unaware of HATTheatre,
or have just never seen much in the way of publicity regarding their work, make it a point to head out to the
West End and enjoy
Awaken The Spirit
. I did, and I am glad of it.
For WCVE Public Radio, I'm John Porter.