Style Weekly's "Best of" issue 2012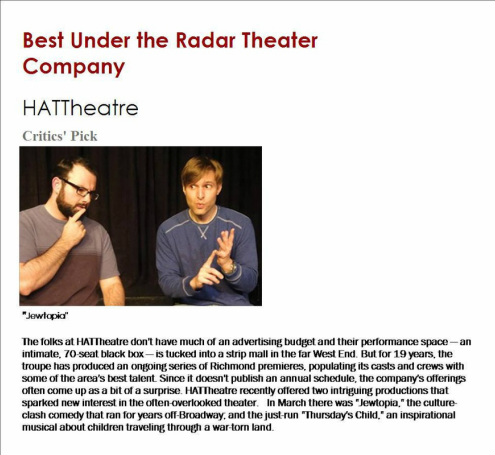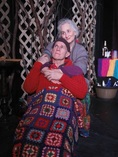 Reviews: The Quality of Life, by Jane Anderson, Feb. 2014
"Anderson's script, already a jewel of linguistic brevity and plainspoken middle-aged truth-telling, is turned even more piercing and trenchant by Gray and his four highly skilled, veteran actors."
- Tony Farrell, Richmond Times-Dispatch
"...one of the most powerful, thought provoking, affecting, and well-acted dramas that I've seen in this, or any other year." "Yes, it's that good"
John Porter, WCVE Radio
" A definite must see"

"features one of the most gut-wrenching climaxes I've seen on stage. Director Deejay Gray has kept the staging simple and allowed the actors to excel."
A BEST BET, Jerry Williams, the Sifter
---

"
HATTheatre's intimate stage is the perfect venue for this intimate tale, where these characters in the hands of the talented veteran cast bare their souls. Director Deejay Gray masterfully allows his actors to perform from their hearts and utilize even silence, stage business and physical gestures powerfully".
"
"This is a flawless dramatic comedy that will leave you talking about both the performers and life itself, well after you leave the theater."
Bruce Levy, ShowBizRadio


Jeremy Bustin, BroadwayWorld.com
"The four veteran performers in
Jane Anderson
's compelling drama, THE QUALITY OF LIFE, unpack and deliver such raw emotion that audience members feel as if they are privileged visitors peeking into the lives of four individuals who are struggling with the acceptance of death and loss, rather than spectators of a play."
"Michael Hawke delicately commands the stage as the frail and terminal Neil. His gut wrenching performance in the final moments is both compelling and compassionate. Jacqueline Jones is masterful as Jeanette, displaying undying love for her terminal husband, before the revelation of her own disturbing plans."
"THE QUALITY OF LIFE puts real faces on controversial societal issues and religious philosophical systems and forces its characters to the brink."
"make plans to see this "quality" production, but be sure to bring a few tissues."
---
Bruce Levy, ShowBizRadio: Over the Tavern, March 2013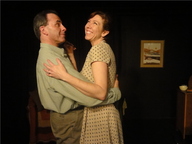 "Over the Tavern is kind of the 1950′s Catholics in Buffalo answer to Neil Simon's Brighton Beach Memoirs (about a Jewish family in NYC in the 1930s). Eric Brenner as the main character of the play, the wise-cracking Rudy, is indeed reminiscent of a young Matthew Broderick (with a touch of Charlie Brown added). The 7th grader has charm, charisma, and impeccable comedic timing; successfully carrying the focus of the show and keeping the audience engaged and entertained."

" Sister Clarissa, masterfully portrayed by Jody Smith Strickler. Strickler is every Catholic kid's worst nightmare (I've heard the stories) complete with clicker and ruler. She is commanding and harsh which makes her softer, inflective moments even more tender and heart-rending."

"The highest praise though goes to another young performer; Nick Dauley as Rudy's "retarded" younger brother, Georgie. As a special education teacher, I can affirm just how authentic Dauley's performance is. In his cast bio, Dauley says "He spent a lot of time researching those with special needs, determined to bring truth and respect to the stage." Well, his professionalism paid off. He is both consistent and endearing in the little mannerisms, tics, body movements and facial patterns of a child with autistic like tendencies. Even in moments when his character is not involved in the plot, Dauley gently rocks, sucks his thumb, slaps his face and other stage business that are true to life for a person such as Georgie."

"Amidst the laughs are some serious messages about physical, verbal and emotional abuse. As Sister Clarissa says "rulers and broomsticks aren't the only things that cause damage." "
"Director Vickie L. Scallion effectively utilized the small stage and theater. The way things were set up, it almost felt like the audience was sitting with the family in their living room."
"The audience is left to ponder Rudy's questioning of his faith. Maybe we're not here to suffer and avoid hell; maybe God put us here to have fun. Either way, I can guarantee you will have fun if you make time to see Over the Tavern. Even with a few swear words, this would be a great show to bring the older children to, as they witness future stars of their generation in the making."


---
Jewtopia, GAYRVA Review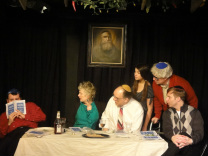 Matthew Miller
March 16, 2012
"Bryan Fogel and Sam Wolfson's "Jewtopia," HATTheatre's submission into the Acts of Faith Festival, is all about Jewish stereotypes
,
But Jewish, schmewish—director Vickie L. Scallion has infused Fogel and Wolfson's pretty much bupkis script with laugh-out-loud humor, particularly in Act II during the Passover Seder scene."

"
Yes, there are bothersome stereotypes, but I sense that Fogel and Wolfson have decided to leave the realm of serious Jewish drama to other playwrights."
" Chris Hester adds an anxious but adorable personality to his role as Adam, and Lucas Hall nicely amps up Chris' enthusiasm for everything Jewish. Michael Dunn stands out humorouly as Rabbi Schlomo, but it's Nicole Fratkin as Adam's sassy sister (Jewish girl with an iPod!) and Natasha Liu as Rachel Khan who have the best one-liners of the show in Act II and they do it hilariously."
"One of the lyrics stuck with me, "I'm a Jew and it's OK." Despite all the stereotypes, I very much agree."

Jewtopia, Times Dispatch, Susan Haubenstock
"The lovely, hard-working group of actors Scallion assembles is clearly committed to making these people as real as possible. Chris Hester and Lucas Hall, as Adam and Chris, are both antic and sweet, and extra doses of chuckle-worthy yiddishkeit come from Michael Dunn, as a beleaguered rabbi, and Sarah Robins, who plays all the misbegotten dates. Nicole Fratkin is especially funny as Adam's furious younger sister.
The cast earns kudos for taking their characters seriously and infusing them with heart"
---
Theatre Review, WCVE Radio
, John Porter
Monday, March 1, 2010
Awaken the Spirit
"Over this past weekend I finally got the chance to catch one of the local theatres whose work was not really known to me.
and I am glad to say that it is a wonderful professional company that has showcased some of the finest talent the city has to offer."
"Their current production,
Awaken the Spirit
, is a reimagining of songs composed by Stephen Schwartz,
a guy who has scored a few minor hits. You might have heard of some of them –
Pippin, Godspell, Wicked, Children of Eden
,
not to mention
The Baker's Wife
among others. Songs from each of these shows, plus a tune from
Geppetto
and
a couple from the album
Uncharted Territory
make up this presentation – great songs that have been moved
from their original spot to create a brand new theatrical experience.
These kinds of compilation shows are hit and miss with me. Sometimes I'm too attached to the songs in
their original presentation and don't want to see them turned into a best-of cabaret; but in the case of
Awaken the Spirit
, an actual story has been constructed out of the material, making it seem fresh and new. "
"Working in an intimate space can be a tricky affair, but they manage to pull it off nicely.
It may be a well guarded secret that I'm letting out, but I recommend that if you are unaware of HATTheatre,
or have just never seen much in the way of publicity regarding their work, make it a point to head out to the
West End and enjoy
Awaken The Spirit
. I did, and I am glad of it."