The Black-Box Players is a profit-share, resident company of professional actors. Their first production was an evening of four one act comedies (hence the title, "Fourplay") which played over two nights to full houses. In 2012, their evening of one acts, "Artistic Inspirations" also played to full houses, and the show was deemed by several audience members as being "subversive and quirky", and, one patron noted, "if this was in NY's Greenwich Village, the seats would be filled every night."

A black box theatre is an intimate space that connects the actors and the audience in a way larger venues often can't. The focus is on the stories being told and the characters being brought to life instead of the technical elements. In the 60's and 70's when the black box came into vogue, it was often called "the actor's theatre" because the performances themselves took center stage when using limited sets and lighting effects. The Black-Box Players was created with that in mind and will bring to the stage works a bit different than our usual fare... an opportunity to actually work "outside of the box".

** Founding members, Tarah Vega and Christina Ashe have since moved on and are now pursuing work in NY. Sarah Bella Alderson has been filming and working in Key West. We wish them all the best of luck in their new endeavors.
Auditions to fill their spots in the company will be announced soon.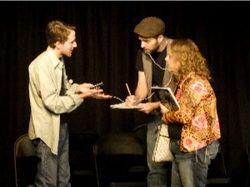 ---