Introducing our Black-Box Players:
Patricia Alli
Dani Brown
Orrie Crews
George Dippold
Michael Dunn
Andrew Hamm
Liz Ballard Hamm
Crystal Oakley
Dale Leopold
Annie Zannetti

A black box theatre is an intimate space that connects the actors and the audience in a way larger venues often can't.
The focus is on the stories being told and the characters being brought to life instead of the technical elements.
In the 60's and 70's when the black box came into vogue, it was often called "the actor's theatre" because the performances themselves took center stage when using limited sets and lighting effects.
The Black-Box Players was created with that in mind and bring to the stage works a
bit different than our usual fare... an opportunity to actually work
"outside of the box".

The Black-Box Players is a profit-share, resident company of professional actors.
Their first production was an evening of four one act comedies (hence the title, "Fourplay") which played over two nights to full houses. In 2012, their evening of one acts, "Artistic Inspirations" also played to full houses, and the show was deemed by several audience members as being "subversive and quirky", and, one patron noted, "if this was in NY's Greenwich Village, the seats would be filled every night." We then moved on to several holiday offerings complete with desserts and coffees, which were enjoyed by all. Last season brought a musical combo to our stage for a fun little original holiday show entitled "All Wrapped Up" (complete with an Elvis), and our Valentine's Day offering,
"Connected" an evening of ten minute plays about relationships, was a huge hit.
This season our players will decide in Sept what they wish to produce and we will announce in the fall.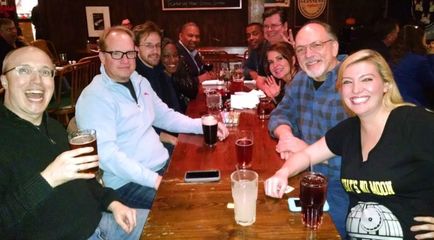 ---