Registering now for 2012-2013!

To learn, it should be fun. Whatever the age, child or adult, a comfortable, non-competitive,
non-judgmental atmosphere is vitally important. Our classes give everyone the chance to express themselves, while developing a strong sense of self-esteem. Students participate creatively as a means of self-expression and development in a safe, professional, and enjoyable environment.

YOUTH CLASSES FOR AGES 5-18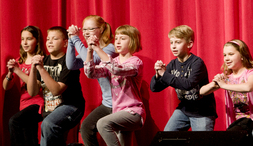 For the shy or the naturally out-going, we have something for everyone! Main classes for youth are part of our 26 week program that runs from Sept. - April. Grouped by ages, each class meets one hour a week. Should they choose, students have additional opportunities for performance related activities that foster confidence in being in front of an audience without the pressure of having to audition. Students learn all aspects of the performing arts, onstage & backstage, performance & life skills. Our goal is to give students, through the magic of theatre, the tools to face new challenges, whatever they may be, with confidence and poise and the knowledge that their potential for success is limitless.
---
HATT'S OFF Presentation!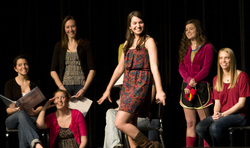 At the end of the year, all take part in our annual HATT'S OFF Presentation, a show written just for them. At the end, all receive a hat representing how many years they have taken class. In 2012 we bestowed two of our students (Katie Patrizio and Nicole Fratkin) with 13th year hats, having watched them grow from timid kindergarteners into incredible young women ready to go off to college.

---
HOME SCHOOL CLASSES

Classes for home educated students are offered several times each year, with sessions usually running 6 to 8 weeks long. Each session has a specific focus and ends with a performance at the end.
Session 1: Sept. 20 – Oct. 25, 3:30-4:30 pm
Session 2: Nov. 1 – Dec. 13, 3:30-4:30 pm
Each 6 week session is $85, or sign up for both and get a $10 discount (12 weeks for $160). We also have sibling discounts and payment options.



---
Collaborate! Create! Perform!

In our homeschool classes, students get a say in the direction of the class. On the first day they are presented with several theatrical options. Options may include working on a musical or a play, writing original works, exploring classics (comedy or drama), or even creating silent movies and film. Choices are only limited by their imaginations! The students will brainstorm and come up with a decision on that first day, and that will be the theme for that session. On the last day they will perform their theatrical piece for an invited audience of family and friends. No two sessions are ever the same! Ages 6-14. To register call 343-6364 or email info@hattheatre.org


---
ADULT CLASSES

Adult classes run year-round in manageable 6 week blocks beginning in Sept. & continuing through the first part of August. Classes cover all aspects of performance and work-related skills including scripted scenes (drama & comedy), improv., directing, intensive character work, monologues, audition prep, and more. Classes are suitable for both the novice and the more experienced actor wishing to stretch and maintain their acting muscles, as well as for those looking to increase their confidence levels in presentation and public speaking needs in their jobs.

---
"Play well, or play badly, but play truly" - Stanislavsky, actor, teacher
Our students are free to question, take risks, and figure out their own technique. We do not have a "demand for purity" which seeks to limit the student, but instead believe a well rounded base is less debilitating and controlling. We believe that "preparation is completely individual and what works for one person may not work for another. The point is to come on stage with something going on; with a full inner life. From there, the emotion will change depending on the circumstances of the scene."
Classes pay equal attention to scene work and improv. which affords the opportunity to explore different characters, understand varying means of expression, develop confidence, control, and focus, learn how to interact and move honestly onstage, and have above all else, fun while doing so. Because if you are not enjoying it, your audience won't either.
To register for any of our classes, please call 343-6364 or email info@hattheatre.org for availability.
Check out our schedule and calendar for more details.
---