Our first foray into creating staged musicals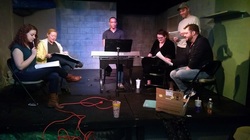 Our first Scaled Down Sundays performance was a grand success!
Songs for a New
World
featured some of the best vocalists in central VA, including Matt Shofner, Katrinah Lewis, Janine Serresseque, Billy-Christopher Maupin, Brian Baez, Brittany Simmons, Kelsey Cordrey, Durron Tyre, Morgan Meadows, Todd Patterson and Bianca Bryan, with direction by Deejay Gray and musical direction by Anthony Smith.
We partnered with TheatreLAB to bring this wonderful stripped down version to the stage, and the audience loved it. Our hope is to continue to offer staged musicals
periodically, bringing the well known musicals as well are newer works to RVA, and
by offering them in a staged format, focusing on the music versus the larger technical
elements. This performance also benefited the Richmond Theatre Artist Fund
which serves to help those in the theatre community who suffer a financial hardship.
---